Y-Love & Yuri Lane COUNT IT (SEFIRA) CD RELEASE PARTY
@ Mo Pitkin's 34 Ave A, NYC 10009

$10 advance at ticketweb.com or $12 at the door

During a time when Orthodox Jews refrain from listening to live music famous Orthodox rapper Y-Love and beatbox superstar Yuri Lane create all their music non-instrumentally. Come see them celebrate their new CD, a release of all vocal hip-hop over seven tracks to correspond to the seven weeks of the Sefira. With a bangin intro and an outro that will make it hard to believe that Yuri Lane's mouth wasn't being produced by Timbaland.

Come see it for yourself at Mo Pitkin's April 28th.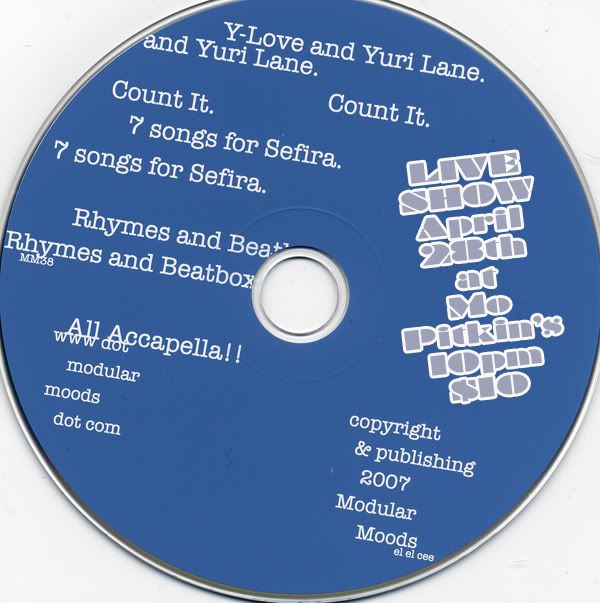 Oh yeah...and....Count It (Sefira) has been written up in AJL, Jewish Week, The Forward, Jew School, Jewlicious and Jewtastic
Jewtastic quote; "Ultimately, Sefira is one of the best Jewish rap albums to come along in a long while, blending intelligent, thought-provoking lyrics with some cutting edge beats, and making you think even as it makes you dance. A must for any Jewish music collection."

www.myspace.com/7sefira

www.modularmoods.com & www.shemspeed.com for all info
Official Website: http://modularmoods.com/events/2007/april28.html