Total access to Miley Cyrus in the heart of Times Square! Get your photo taken with the superstar's wax figure and play in her dressing room.

Are you Miley's biggest fan? Are you one of the lucky ones who made it to her concert? Come to Madame Tussauds where all of Miley's fans get "backstage" access to the teen superstar!

The figure is housed on the fifth floor in her very own colorful area. She is fashionably clothed in skinny black jeans, a blue and gold silk top and open toed red shoes. Miley's figure is sporting her trademark smile and long flowing locks. Don't miss this opportunity to get up close and personal with your favorite star.

Visit Madame Tussauds New York today located on 42nd Street in the heart of time square. Get your picture taken with Miley and over 200 other incredibly lifelike wax figures of celebrities and historical icons!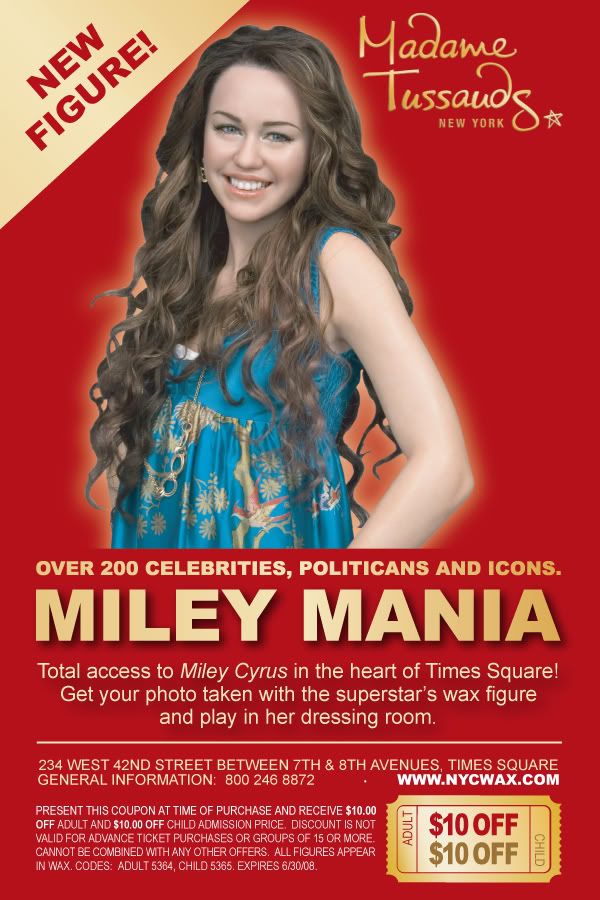 Official Website: http://www.nycwax.com