Join Locus Arts for our season finale concert on Sunday, July 1, at G3 Lounge in the Richmond District of San Francisco! Featured artists include Teri Untalan, Phonofly, and Rick Di Dia & Aireene Espiritu.

Sunday, July 1, 2007 - Doors open at 7:00pm, Show starts at 8:00pm
G3 LOUNGE 3910 Geary Boulevard (Geary at 3rd Ave) San Francisco, CA 94118
Admission: $7-10 sliding scale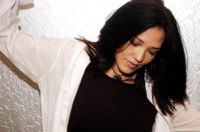 Portland Singer/Songwriter/Violist TERI UNTALAN has gained quick recognition with her 2004 debut self-titled CD as a captivating performer. Formerly from San Francisco, she worked the stages for over a dozen years performing or recording with such notables as Buckethead (formerly of Guns n Roses, Praxis & Giant Robot), Westside Chemical (Stray Records), Katrina Wreede (formerly of Turtle Island String Quartet), Miko (former Prince guitarist), and several other Bay Area and L.A. up & coming songwriters: David Hopkins, Austin Willacy, Butch Berry, Rich McCulley, and Brad Brooks to name a few. She's been featured in Asian Week newspaper, KRON Channel 4's Pacific Fusion TV Magazine, the 2004 San Francisco International Asian American Film Festival, KPFA's APEX radio in Berkeley, APAture (1999, 2001 & 2004) and the 2005 Asian American Music Conference Artist Showcase. She also endeavors to remain active in Bay Area Asian Arts non profit organizations such as Kearny Street Workshop and Locus Arts. Upon her move to Portland she immediately got involved in promoting music education and works with local non-profits, Ethos Music Center and Girls Rock Camp. Her 2004 CD is now being sold online at CDBABY.com, iTunes, and the Bazaar Cafe. She is currently in pre-production for her next CD. http://www.teriuntalan.com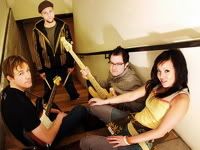 Infectiously catchy without being cliche, PHONOFLY's mixture of rock-soul hotness, intricate guitar riffs, and a reggae tinge creates a sound that's simple to enjoy and dance to, but that still remains lush in its creativity. With a voice that shifts from accompanying the music to driving it, Steph Stolorow's vocals make Phonofly easy to fall for. Her delivery varies from ethereal melody weaving to sultry lounge singing to rhyme-spitting, indicative of the varied styles which embody the group as a whole. Doug Major's guitar work shines through as an element that makes most Phonofly songs instantly recognizable, with parts that make the music interesting and attractive to musicians and general show-goers alike. Meanwhile, Justin Miller's bass lines add depth from a musician who's dabbled across genres but has roots in funk and r&b. And with a mostly reggae background, drummer Jayme Arredondo's solid beats add distinction to Phonofly's groove. Phonofly's intoxicating mix of elements, in a sense reflective of the colorful mix of styles in their Bay Area home-base, uplifts live listeners and can be heard on their debut album, "What You Seek."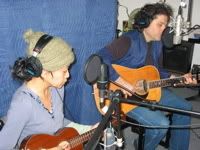 Poaching from the blues, jazz, folk ballads, stomps, bluegrass and hollars, RICK DI DIA and AIREENE ESPIRITU pick, strum, stomp, slide and sing their own brand of stripped down Americana. By taking pieces of the past; your story, my story, our ancestor's stories, they paint pictures of places and people's lives, the day-to-days, little stories from different times and cobble them together to make the old sound new in an old sort of way.

Rick plays in various tunings and has developed a unique lap-style playing method that results in an intriguing array of chords, single note lead runs and sliding that looks as if he is chasing notes from one end of the neck to the other. Aireene, a native of the Philippines, plays a 1950's Martin tenor ukulele, and crafts simple yet hauntingly beautiful songs that are highlighted by her deep and down-to-earth vocals.

Spending the last year playing consistently throughout the San Francisco Bay Area, along with jaunts to Los Angeles, New York, New Jersey and Philadelphia, Rick and Aireene are encouraged by the response. They have played at venues such as The Bitter End, CBGBs, The Fillmore, and Freight and Salvage. In September they are performing at The House of Blues in Las Vegas. Together they have supported and/or played with such acts as Rogue Wave, My Morning Jacket, AJ Roach, Rickie Lee Jones, Peter Case, Willie Nelson and Odetta.
Official Website: http://locusarts.org/calendar.html?date=1+6+2007