Free
You must RSVP - starting April 19, 2007 at 9:00 am.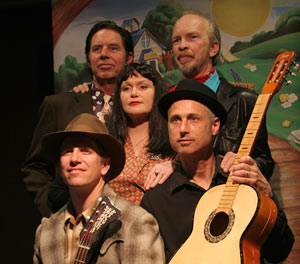 The Knitters present musical Americana with roots-rock energy and an L.A. attitude

The great Los Angeles alt-country band the Knitters have been rambling along America's musical highways since way back in the 20th century. With the recent release of their first album in 20 years, The Modern Sounds of the Knitters, these veteran stars of X and the Blasters—John Doe, Exene Cervenka, Dave Alvin, Jonny Ray Bartel, and D.J. Bonebrake—take a fresh musical look at their hometown in a concert that pays tribute to the exhibition A Place in the Sun: Photographs of Los Angeles by John Humble (March 27–July 8, 2007).
Official Website: http://www.getty.edu/visit/events/friday_nights.html