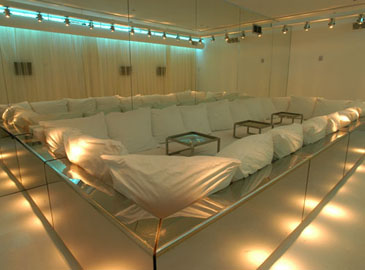 "TasteTV Presents "MY DINNER WITH..."
AT SUPPERCLUB"
Great Food, Great Company, Great Drink,
Great Music...all in a Big Bed for 20, and our special guest, CELEBRITY CHEF RYAN SCOTT (who is on his way to even greater celebrity soon...nuff said)

The January 24th
Dark
Dining
event will be the launch of our new celebrity dinner series,
"MY DINNER WITH..."
- where 20 TasteTV guests will have the pleasure of dining, in repose,
with a well-known personality of food, film, literature, politics, fashion or media,
while getting to known them, each other, and enjoying the relaxed environment of
SupperClub.
, in San Francisco's SOMA District.
Low mood lighting not blindfolds set the culinary scene for 20 persons in a decadent cushioned giant bed-pod served in the low light a fabulous three course meal (veg,
seafood or poultry), with mod background music, Vermeer Dutch Cream Chocolate Liqueur, and cool New Zealand Pinot Noir.
Limit 20 persons the evening, $75/person, Previous TasteTV reservations can be applied.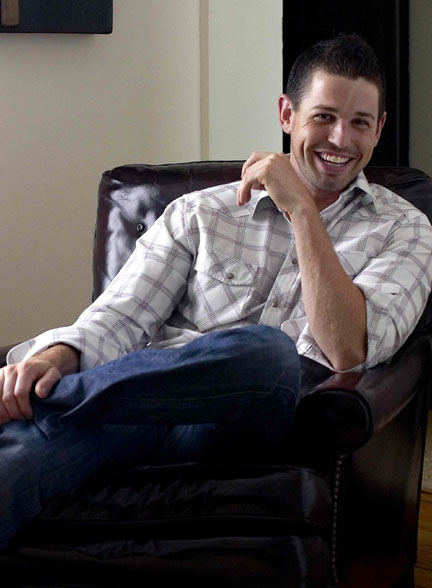 BREAKING NEWS:
This morning Bravo revealed the cast of the newest season of "Top Chef." Ryan Scott, chef of Myth Cafe, is one of four San Francisco chefs featured on the hit reality show, now in its fourth season. The complete Bravo press release, including the list, bios and photos of the cast, may be found here: (
http://nbcumv.com/release_detail.nbc/bravo-20080123000000-bravounveils34t.html
) and more photos and information can be seen soon at bravotv.com.
About Celebrity Chef Ryan Scott:
His talent for creating simple, healthy and delicious cuisine draws long lines and wide acclaim at Myth Café in San Francisco, where he has been chef since 2005. Ryan strongly believes in "giving back" as much as possible and works extensively with community organizations. Chef Scott has several exciting culinary-inspired projects in the works, so stay tuned . See his videos on TasteTV (
Sexy Dishes
, and
Myth Cafe
)
Official Website: http://www.sfdark.com