The landing of T #02 in Canada! It's the official launch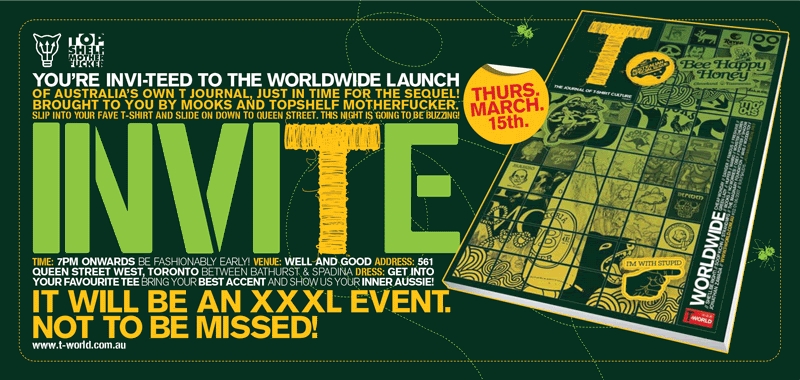 party of the globally distributed T (The Art of T-shirt Culture) which is celebrating it's second issue release. It's a bumper "Australian Special Issue". So get excited! Get very excited.
Come and join the T-world T-eam and celebrate all things T-shirt related.
BE FASHIONABLY EARLY - THE LAUNCH KICKS OFF JUST IN TIME FOR HAPPY HOUR!
7PM ONWARDS.
It really will be T-shirt Heaven - we have tees to giveaway on the night.
. Be early for the giveaway bags.
BUT, MOST IMPORTANTLY...
. Come dressed to a tee, quite literally. That's right, get into your fave tee. We expect nothing less.
THURSDAY, MARCH 15 @ WELL AND GOOD (formerly M-ONE-11), 561 QUEEN WEST
Remember it! Write it down now and bring the invite along for entry:
http://i146.photobucket.com/albums/r264/mone11sf/T02INVITET-ORONTO.gif
You won't get in without it.
RSVP to ensure your name is on the door list.
RSVP:
[email protected]
by Tuesday March 13.
Official Website: http://i146.photobucket.com/albums/r264/mone11sf/T02INVITET-ORONTO.gif