THURSDAY NOVEMBER 12, 2009

Auralism & Vessel present a very special night of music featuring

BRUNO PRONSATO (Hello?Repeat, Perlon, thesongsays)
[A]PENDICS.SHUFFLE?(adjunct, Mo's Ferry)
JASON SHORT (Auralism, Nightlight)
HAC LE (Auralism, listed, playcomusic.com)

Open Svedka Vodka Bar 9:30-10:30

$5 Presales available at http://ARLSMVES111209.eventbrite.com

Hosted by Dolce Presents, Antonio Sierra, & Ali Meykadeh

85 Campton Place | SF | 9:30p-2a | [email protected]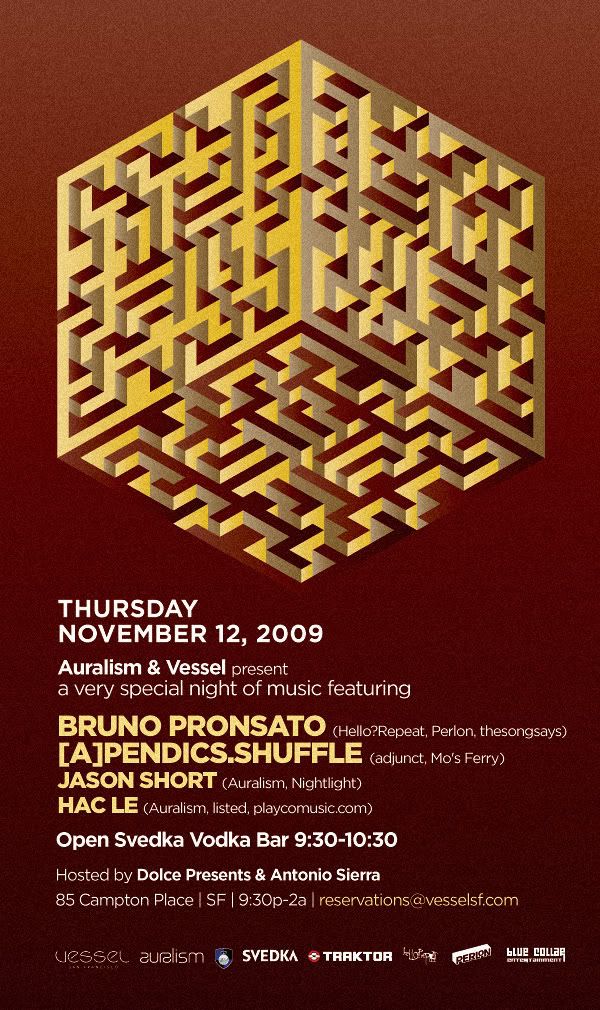 http://www.auralismrecords.com

______________________________________________________________________

BRUNO PRONSATO

Seattle producer Bruno Pronsato (aka Steven Ford) took several giant steps in 2005 toward the peak of the experimental techno mountain. Both on vinyl and onstage, Pronsato kept up a hectic pace of production and performance, catalyzing listeners and crowds in Germany, Switzerland, Turkey, Mexico, throughout the United States, and a triumphant set at Montreal's Mutek festival. Last year his solo album "Why Can't We Be Like Us" received both widespread support from fans and critics alike. In addition, his twelve-inches on esteemed labels like Orac, Perlon, Hello? Repeat, Musique Risquée, Milnor Modern, Philpot, and Telegraph further elevated his stature and built his international profile. A sound scientist whose work is equally playful and rigorous, Pronsato deploys a canny use of space and idiosyncratically fashioned rhythms to disorient and build suspense—like some 21st-century Miles Davis or Eric Dolphy of the laptop. Despite being a minimal-techno artist, Pronsato offers a palette that's as full of unexpected patterns and meticulously rendered textures as a Wassily Kandinsky painting.

Pronsato's compositions unsettle in original ways, yet they also slyly tickle funny bones. Often both humorous and erotic, his cuts are the wild cards that adventurous DJs pull out when they want to take the dance floor to strange new levels of motion. Therefore, Pronsato's releases have become elite selectors' secret weapons of beguilingly baffling quirkiness that still move asses.

[A]PENDICS.SHUFFLE

Kenneth James Gibson is a man of many personas. Keeping up with him can be a time consuming, yet rewarding venture into sound. As soon as you think you know him and can grasp what's going on, he puts on yet another mask and becomes something else. Always a surprise and never a let down, he gives us what we want but don't expect. A rare stone in today's musical climate, Ken is rolling and collects no moss.

Kens first recordings were as the guitarist, singer, part time keyboardist and producer of the 90s indie rock band Furry Things. He slowly grew tired of being in a band and started producing a slew of electronic mish mash on his own as Eight Frozen Modules. Starting out with a guitar, half broken sampler (given to him by King Coffee of the legendary Texas band The Butthole Surfers), a drum machine, borrowed synths and a four track, Ken laid down an off kilter mix of electro, abstract hip hop, dub and techno.

In 1997, Ken moved from Austin Texas to the big city of Los Angeles, California. After releasing a few records as Eight Frozen Modules on various labels such as Trance Syndicate and City Slang, he gave up the 4 tracks and guitar for a desktop computer and software. While taking a few years off from releasing music, he learned how to create a new world in the land of computers. After 3 years of not leaving his padded studio cell, he resurfaced with the 2001 Eight Frozen Modules CD Random Activities and Broken Sunsets, a mix of glitched out electro, techno, and idm for the LA label, Phthalo. Since then, he has also released music under the names [a]pendics.shuffle, The Premature Wig, dubLoner, Electronic Music Composer, Reverse Commuter, Bal Cath, Hiss and Buzz (with Jack Dangers of Meat Beat Manifesto), Kenneth James G., KJ Gibbs, Whoa Buck, Cascabel Gentz (with Argentine Dilo), Men In Slippers (with Mikael Stavostrand) for labels such as Mo's Ferry Productions, Adjunct, We Are, Lick My Deck, Revolver, Leftroom, Resopal, Floppy Funk, Underl_ne, Orac, Mille Plateaux, Planet-Mu, Proptronix, Titbit, Force Tracks, Disco Inc., and Sunset Diskos....just to name a few. When Kenneth isn't in the studio reeking havoc on his neighbors, he is touring the world playing his music for the crazy kids late at night. Ken lives in Los Angeles, California and co-runs the label Adjunct, part of the Kompakt family. Adjunct is a forward thinking techno and house label releasing such artists as Mikael Stavostrand, Dilo and Gurtz, Mathias Schaffhauser, Sutekh, Franco Cinelli, Kit Clayton, Peter F. Spiess and many more.

Kenneth just finished up a big remix / live project with Crostown Rebels main man Damian Lazarus, which you can hear in Damian's latest live sets. Some of this material will also be making it to vinyl in the near future. Kenneth has also finished up his full length Reverse Commuter LP and EP's for DJ Three's label Hallucination Limited, which will be out very soon, along with some excellent remixes. The Reverse Commuter live set at WMC 2009 was listed as Mr. C's (Superfreq) favorite set of the conference. Also in the works is a Kenneth James G. house influenced EP and LP for new LA label Culprit, a label run by the Droog folks. Another venture is the latest project Cascabel Gentz. This is a duo consisting of Kenneth and Dilo from Argentina. The 2 latest Cascabel EP's have been getting rave reviews from play from such DJ's as Luciano, Tim Xavier, Shonky, Brothers Vibe and many more.
Official Website: http://www.auralismrecords.com