The Proper (Sounds & Style) crew is back together this Saturday October 18th for Vessel's new 'signature Saturday night party, fittingly called Auxiliary.
' We're collaborating with Christian Pineiro on this one, and if you know this guy, you know that he's one person who knows how to really get a party goin!

We're featuring two of the West Coast's extraordinary DJ Duos; Helicopter (Gordon Waze & Sunwoo) this dynamic duo rocks an ever-changing dance set, oftentimes spontaneously switching sounds to rock the party with their inspired performances. With them, we have 'The Corporate Scandals' (CarlosTino & Martin Aquino) As the dust from an exhilarating third quarter of '08 begins to settle, the Corporate Scandals will once again escape the cubicle maze for their return to Vessel.


Since the creation of the Corporate Scandals earlier this year, the duo has made a reputable presence in both the club circuit and the underground scene in San Francisco. Their stimulating sound is deeply rooted with funky bass lines blended with classic soulful accapellas all the while keeping up with today's modern tech sounds leads the crowd to a dancers paradise. With the use of tricky mixing techniques and stimulating blends this duo is sure to keep the party moving all night long.


The vibe at this event is guaranteed to bring the house music scene in San Francisco to the next level and will forever be engraved in the souls of its attendees!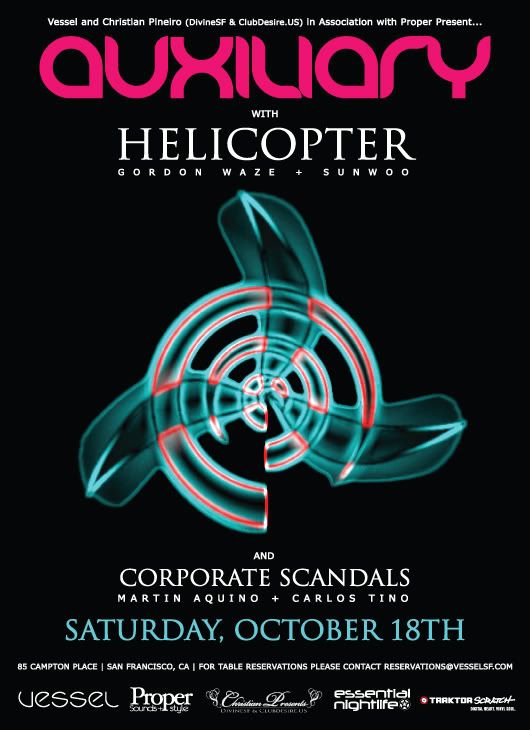 Official Website: http://vesselsf.com