Thursday, May 3, 2007
Kearny Street Workshop presents
Post I.D.

identity-infused art for a post-identity world
opening reception
Join Kearny Street Workshop and the Asian Pacific Islander Cultural Center for the opening reception of a new visual exhibition, Post ID: identity-infused art for a post-identity world. Featuring work by artists Jenifer Wofford, Mark Baugh-Sasaki, Nancy Mizuno Elliott, Richard Godinez, and Sita Bhaumik, this new exhibition explores the nature of identity and hybridity in a range of media and genres, and from multiple multiracial perspectives. In a world that often seems to wish itself to be "beyond race," Post ID invites you to consider the more complicated and intriguing realities. This exhibit runs May 3 - 26, 2007, at SomArts Cultural Center.
Above: Post ID graphic design by Mark Baugh-Sasaki, based on "How to Make Big Hair," gelly roll pen on blackboard slates,2003 by Nancy Mizuno Elliott.
Event: Post ID exhibition opening reception
Dates:

opening reception: Thursday, May 3, 2007

exhibition runs: May 3 - 26, 2007
Times:


Opening reception and APICC festival kick-off: 5 -8pm

Gallery Hours: Tues - Fri, 2 - 7pm; Saturdays 1 - 5pm
Location: SomArts Cultural Center, 934 Brannan Street, San Francisco
Cost: free.
Info: Contact Kearny Street Workshop at [email protected] or 415.503.0520, or APICC at [email protected] or 415.864.4120.
This exhibit is produced in association with the Asian Pacific Islander Cultural Center.


About the artists:
Mark Baugh-Sasaki was born and raised in San Francisco. He spent his college years in Pittsburgh, PA, while attending Carnegie Mellon University. The city of Pittsburgh had a profound impact on the way he perceived the relationships between humans and their environment. He describes the tenuous relationship in which industry and the natural environment interact with each other through the combination of organic materials and industrial processes and forms, to create an object that illustrates this tension. Since returning to San Francisco he has spent his time creating sculpture that examines the relationship formed between our urban society and the natural environment around us. For more information please visit industrialforest.com.
Image credit: Mark Baugh-Sasaki, Reconstruction, wood and steel, 2004.

An award-winning photographer, writer and artist, Sita Kuratomi Bhaumik is an artist and writer with a severe case of island fever. Although born and raised in Los Angeles, she has lived and worked on three continents and one archipelago. After graduating with a degree in Studio Art, cum laude, from Scripps College, she moved to San Francisco to co-kick-start Free Media Group, dedicated to Bay Area arts and culture. She is an editor at Hyphen Magazine and her writing has appeared such publications as The Onion and TODO. Her work was selected for the 2005 Apature festival and she exhibits in Los Angeles and San Francisco. Sita has exhibited work with MAPP, the Mission Arts and Performance Project, and is an active member of the 24hourshow collective of interdisciplinary Asian American women artists. Sita's work explores the space of representation, hybridity, and pop culture in all its fizzyness. She builds on the meanings of mechanically reproduced objects to explore the spaces between and create the spaces that are absent. It is through a conscious art practice that she believes possibilities in representation create possibilities for existence.
Image credit: Sita Kuratomi Bhaumik, Sunset, Installation with pantyhose in tan, and nude and sunset, dimensions variable, 2004.
Nancy Mizuno Elliott received her Master of Fine Arts with Highest Distinction from the University of Georgia and her Bachelor of Arts from University of California at Berkeley. She recently concluded a two-year visiting artist stint at Truman State University in Kirksville, Missouri. She has also taught at various Bay Area institutions including UC Berkeley-Extension, Mission College, Los Medaños College, and Hartnell College. She was an Artist-in-Residence at San Francisco County Correctional Facilities and taught art fundamentals to seniors residing at Alameda Hospital. Currently, she teaches at San Francisco City College. She has extensive experience in non-profit programming, gallery management, and art administration. Most recently, she was the Exhibitions Director at Richmond Art Center and responsible for curating over twenty exhibitions per year. She has exhibited nationally and abroad—Spain, Italy, California, Illinois, Florida, Georgia, Nevada, Michigan, Nor! th Carolina, Pennsylvania, Virginia, Alabama, Alaska, Maryland, New York, Colorado, Ohio, Missouri, New Jersey, etc. Honors include C-00 Film Grants, Individual Artist Project Grants (City of Oakland), Alameda County Purchase Awards, Studies Abroad Fellowship, and residencies at The White Colony in Costa Rica, Can Serrat in Spain, Ragdale (Chicago), Hambidge Center (Atlanta), and De Young Museum (San Francisco).

Recently, she completed a public arts project sponsored by the Market Street Art in Transit Program Kiosk Poster Series administered by the San Francisco Arts Commission. And last Spring, she gave away over 1000 hand-made butterflies to visitors of recreation centers located in Latino neighborhoods of Oakland. The project, entitled Pura Vida, was funded by the City of Oakland. The City also supported Squawk!: Art Inspired by Oakland Renegade Poets, mixed media paintings exhibited at several Oakland Public Libraries. The City of Emeryville selected her to participate in its Art Along the Avenue program. Her site-specific installation was in an unoccupied storefront on San Pablo Avenue until September 2006. Lastly, she has been chosen by the Alameda County Arts Commission to be included in its rotating art collection. Her work will be shown in various county buildings, beginning with the newly constructed Juvenile Justice Center located in San Leandro, California. The work will illustrate a wide variety of Alameda County poets and lyricists, be they famous or not-so-famous, including text from Juvenile Hall youth.

Image credit: Nancy Mizuno Elliott, How to Make Big Hair, Gelly Roll Pen on Chalkboard Slates, 2003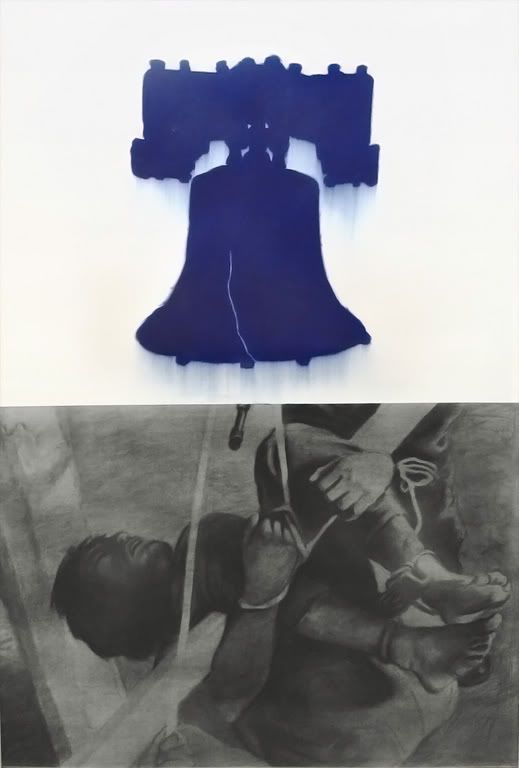 Richard Godinez is a Bay Area artist and painter who received his BFA degree from San Jose State University and his MFA degree from Stanford University. He has exhibited at the San Jose Center for Latino Arts, D.P. Fong Gallery, the Triton Museum, New College of San Francisco, Galeria de la Raza, and the Matrix Gallery, Sacramento. He was the recipient of grants from the Silicon Valley Arts Council and the Rockefeller Foundation. He was also awarded the first place Juror's prize at the Halpert national Biennial, Appalachian State University, Boone, North Carolina. His work has been reviewed in the Metro, San Jose Mercury News, Artweek magazine, and BlackFlash (Canadian Art Journal). Godinez was also a presenter at the 1994 Annual College Art Association conference, New York, NY.
Image credit: Richard Godinez, FreedomToll (for Henri Alleg), oil on canvas, 2006.

Jenifer Wofford was born in San Francisco, California, but grew up in Hong Kong, the United Arab Emirates, and Malaysia. She moved back to California for high school, and eventually made her way to the San Francisco Art Institute, where she received a BFA in 1995. With the exception of numerous escapes, adventures and residencies, she's lived in the Bay Area ever since.Her work has been exhibited in the Bay Area at the Richmond Art Center, a.o.v, Babilonia 1808, Southern Exposure, Intersection for the Arts, Dorothy Weiss Gallery, nationally at New Image Art (Los Angeles), the Nora Eccles Harrison Museum (Salt Lake City), the Philippine Consulate (Honolulu), and internationally at Future Prospects (Manila, Philippines), and Galerie Blanche (Mandelieu-La Napoule, France). Since 1995 she has also been 1/3 of the manic, brilliant, highly delusional artist team known as the Mail Order Brides/M.O.B. She has undertaken artist residencies at The Living Room, Malate, Metro Manila, Philippines, Skidmore College, in Saratoga Springs, New York, and Chateau de la Napoule, Mandelieu-La Napoule, France. She was also awarded residencies at 200 Gertrude Street, Melbourne, Australia, and Kunstcentrum Haagweg 4, Leiden, Netherlands. She's worked in arts education since 1993, via such organizations as the San Francisco Museum of Modern Art, Southern Exposure, San Francisco Conservation Corps, Casa De Los Jovenes, Leadership High School, Galileo High School, the b.a.y. fund, and Out Of Site. For more information, please visit wofflehouse.com.
Image credit: Jenifer Wofford, Woffords, Paint video still: Go on, try it, 2006.

Kearny Street Workshop is a multidisciplinary arts organization based in San Francisco's Mission District at KSW's exhibition and arts events space, space180. The mission of Kearny Street Workshop is to produce and present art that enriches and empowers Asian Pacific American communities. Our vision is to achieve a more just society by connecting Asian Pacific American(APA) artists with community members to give voice to our cultural, historical, and contemporary issues. KSW offers a range of programming, from visual arts exhibitions and literary readings to creative writing workshops, a small press, and an annual arts festival. For more information please visit www.kearnystreet.org.

Official Website: http://www.kearnystreet.org