NON-FAT & WERD Present SPRUNG w/ TOUANE / SF // 4.10.09

April - 10 - 2009

WERD & NON-FAT Present

SPRUNG w/

TOUANE
(persona * liebe*detail * prologue)

Italian born Marco Tonni's floor-oriented funk filled minimal techno has been featured in mixes from the likes of Richie Hawtin, Troy Pierce and Steve Bug among others. Known for his ability to cross boundaries between jacking rhythms and an intricate layered depth of sound. We are excited to share his live set with you and take you on a journey into new sounds and space.

* * *

alonside

NIKITA (non-fat, listed, the endup)
ROOZ (deep blue)
NICK WILLIAMS (werd)
BRANDON WADE (werd)
KIM KONG (non-fat, bitches get stitches)
GOMEZ (werd)

* * *

Underground - SF
$15 | 10pm-6am | 21+

For details please visit http://www.werd-sf.com .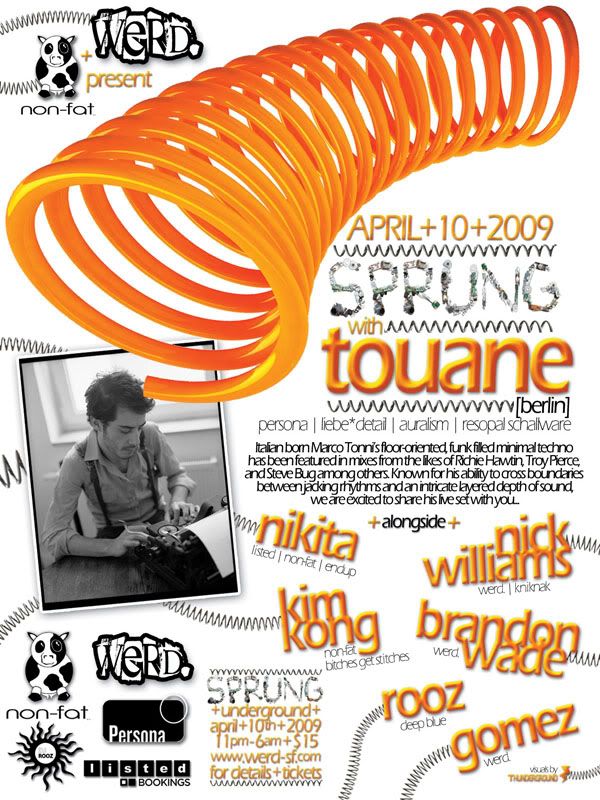 Touane is Marco Tonni, born in 1979 in Rimini, a tourist-choked seaside in the north of Italy. After playing bass and guitar in rock bands during his youth, he began to experiment with electronic music at 17, creating music to reconfigure the incomplete memories of his favourite songs into a new and signature sound.

After moving to the more lively city of Bologna, Tonni DJ'd and performed live at the famous Link club while still at university. He worked to spread a fresh DIY aesthetic to non-musicians in the college town and with his colleagues organized a series of events and parties, which became, by early 2004, the Homework Festival, a showcase of young and emerging computer artists and musicians in and around Bologna. The same year, Tonni relocated to Berlin. As part of the Persona stable, his individual sound was packaged into the 2005 debut 12" Afasia. This and other early tracks were immediately charted by DJs such as Troy Pierce, Falko Brocksieper, Jeremy Caulfield and Steve Bug. Tonni then released the nuanced, critically acclaimed studio album, Awake, which garnered him attention from press and fans alike. A European tour followed with stops in Madrid, Moscow, and Rome.

2006 saw the consolidation of Tonni's talents. First with the chart-topping single Bassic, licensed for Fabric Live – Tiefschwarz and for XLR8R's Berlin Issue compilation CD; then with releases on Dumb-Unit, Trenton, Regular, and finally Persona with two more singles. Tonni crossed the Atlantic several times in 2007, bringing his sound to the US, Canada and Japan. He released an album, Figura, and an EP, Malto, on Persona, as well as taking on more management duties for the label. There were also releases and remixes for Trenton (including the track Action Painting, featured in Philip Sherburne mixes) Curle, Lan Muzic, and a split EP with Ulysses for Hamburg's Liebe*Detail. Recent offerings have included The Birds (Persona), a collaboration with Alberto Andreoni on Davide Squillace's Minisketch, and an as yet unnamed collaboration with Andrea Sartori.

Touane's sound and dynamic character continue to rock the dancefloor and produce killer tracks. Expect nothing less come April 10th when he joins NON-FAT & WERD for what will be an amazing bass-filled evening.

Looking forward to seeing you on the dancefloor!

* * *

VIDEO ----->

Touane @ classic club 22/03/09


Touane @ Altavoz 240109


MUSIC ----->


* * *

MYSPACE
http://www.myspace.com/Touane

--------------------------------------------------

http://www.listedbookings.com

http://www.werd-sf.com
Official Website: http://www.werd-sf.com