New Media & Video 2.0 Chocolate Cocktail Meetup
As part of
SF Chocolate Salon
week, TasteTV, Chocolate Television and Vermeer Dutch Chocolate Cream Liqueur are inviting anyone who is part of New Media or Video 2.0 to meet between 5-7pm for complimentary Chocolate Cocktails at Supperclub.
Meet other people in the New Media and Video 2.0 Meetup, network, and have delicious on-the-house Chocolate Cocktails created with Vermeer Dutch Chocolate Cream Liqueur.
New Media & Video 2.0 Chocolate Cocktail Meetup Schedule
1. Arrive between 5-7pm
2. Order your chocolate cocktail
3. Drink it
4. Start chatting to everyone
5. Repeat as necessary
Sponsored by Vermeer Dutch Chocolate Cream Liqueur. (If you like Baileys, you'll love Vermeer)
What is SF Chocolate Salon week?
TasteTV sponsors the San Francisco International Chocolate Salon on April 13th at Fort Mason, and presents an entire week of chocolate-themed specials at local restaurants. The Salon can be seen here
http://www.SFChocolateSalon.com
What is the New Media Tastemakers Summit on May 2nd?
A first-of-its-kind gathering of some of the most important Digital Media, Traditional Media, Online Video and Web 2.0 producers, platforms and startups specifically focused on the lucrative & highly influential Lifestyle categories of: FOOD & WINE, FASHION & DESIGN, AND REGIONAL/CITY SITES. Powered by the techniques and technology of New Media, these categories are not only required daily reading and viewing by tens of millions of consumers and businesses, they also have the ability to begin or end major trends, make fortunes & careers, and thrill & delight advertisers.
http://www.NewMediaTastemakers.com
Over twenty high-profile companies will be expert speakers and panelists, including:
Kara Walsh, CEO
METROMIX LLC (TRIBUNE INTERACTIVE -GANNETT)
Michael Chin, Senior Vice President, Marketing
KICKAPPS: Social Media Applications On Demand
R Jason Middleton. Editor in Chief
LA.com
Sonia McFarland, Business Development
YELP
Brian Sugar, Founder and CEO
SUGAR INC. (YumSugar, FabSugar)
Davina Baum, Managing Editor
CHOW.com
Morgan Brown, Director of Marketing
TURNHERE
Derrick Oien, President
INTERCASTING CORP.
David Cooperstein, CMO
BURST MEDIA
Doug Collister, Vice President
FOODBUZZ.com
Harlow F. Newton III, Director of Digital Marketing & Strategy
BOULEVARDS CITY GUIDE NETWORK / SFStation.com
Lesley Scott-Silbergeld, Editor in Chief
FASHIONTRIBES.com
EC Morgan, CEO
SOMA MANAGEMENT, LLC / SOMAGIRLS.tv
Azhar Khan, Cofounder, VP of Engineering & Merchant Operations
LIKE.com
Sabrina Yeung, Managing Editor
STYLEHIVE.com
Jamison Tilsner
TILZY.TV
Kristin Hawley Dossetti, VP, Programming
BHOOTAN
Nagaraju Bandaru, Co-founder & CTO
BOORAH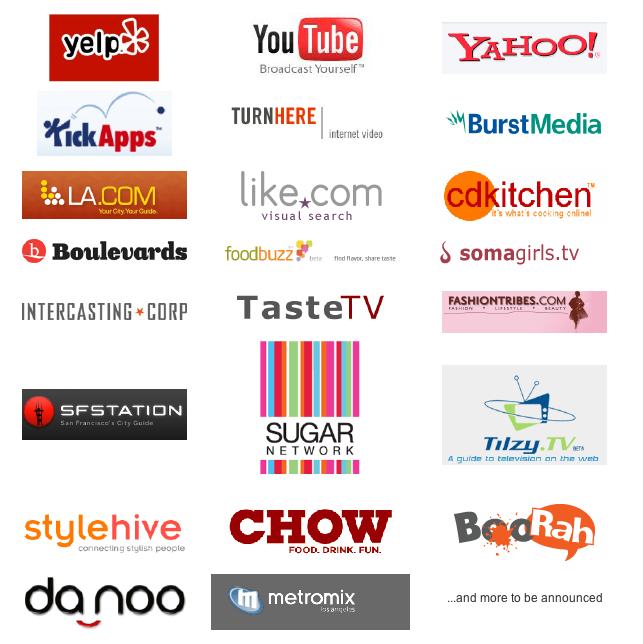 Official Website: http://newmedia.meetup.com/88/calendar/7525881/