Saturday, September 20 2008

M2 Presents

THE HEAT w/

SHAUN REEVES
Raum...Musik | Wolf + Lamb | Detroit | Berlin

K.atou
Lick My Deck | Einmaleins Musik | Athens | Berlin

with warm up session by
JASON SHORT & CLINT STEWART
Auralism | Karloff | Lobotomy | Nightlight

Shaun Reeves and K.atou are on to something. Call it a revival of pure dance music. Call it techno? In small doses.. minimal? When appropriate.. deep house? Not quite, but sometimes.. How about a moving target between all three? Definitely. Forget about genres. What we wanted to do for our first party was bring SF something that expressed what we love best about this music - pure DJs, deep record collections, sexy bass-laden grooves, and an understanding of what matters to the educated masses on the dance floor - something we like to call MORE PARTY.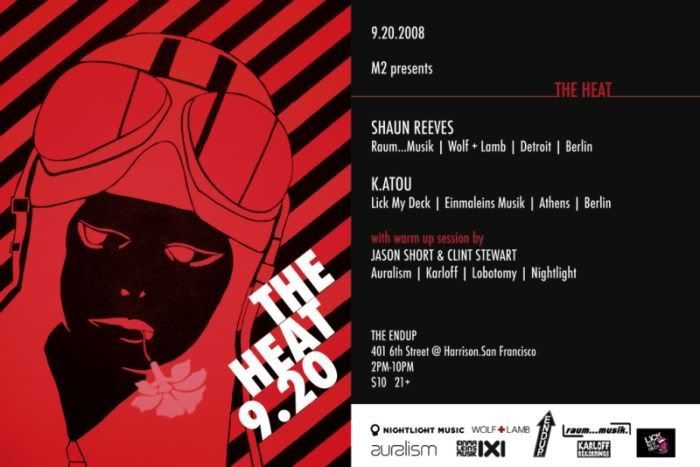 and a link to a promo mix:


THE ENDUP
401 6th Street @ Harrison.San Francisco
2pm-10pm
$10 | 21+
Official Website: http://www.theendup.com