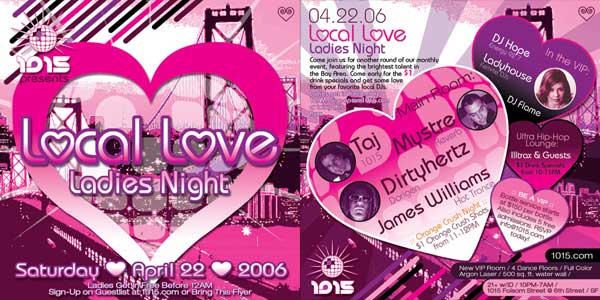 **Ladies in free before 12am (w/ flyer or sign up at www.1015.com), $20 after**
**$1 drink specials from 10pm-11pm**$1 Orange Crush shots from 11pm-12am**
**VIP bottle service available: $150 per bottle & 5 free admissions with reservation. Send e-mail to ([email protected])**

DRESS TO IMPRESS; NO HATS/NO RAGS/ALL STYLE

Featured performances throughout the night in the MAIN ROOM by:
TAJ: 1015 Resident DJ
MYSTRE: Reverb
DIRTYHERTZ: Dorigen
JAMES WILLIAMS: Hot Trance

In the VIP:
DJ HOPE of Energy 92.7
LADYHOUSE of Femme DJs
DJ FLAME

Ultra Hip-Hop Lounge:
DJ Illtrax & Company

About 1015:
Ten15 nightclub, a historical landmark in San Francisco, has long been considered the national birthplace for world class DJ-centric clubbing. A true pioneer in support of electronic music, the club defined itself through an uncompromising commitment to quality programming, in combination with cutting edge technology. As the longest running club in San Francisco, Ten15?s 20-year history is now the material of legends.
Official Website: http://WWW.1015.COM