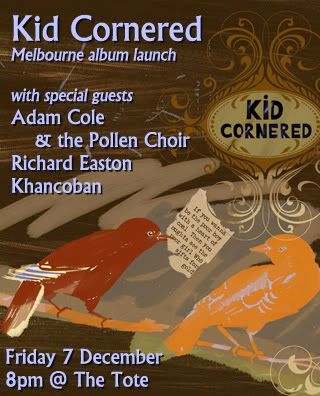 Melbourne launch for Kid Cornered's latest record - the self titled album out through Half a Cow is the follow-up to his well regarded debut Six Sisters.

Matt Toohey previously fronted Sydney angular post-rock darlings Browning, who played many legendary shows with peers like Bluebottle Kiss, Deloris, The Rebel Astronauts, Sea Life Park and Sounds Like Sunset.

Now under the Kid moniker, and backed up by the El Mopa lineup, he offers warm country-tinged pop with a gentle turn of phrase and a haunting delivery. Don't miss this show! top night, with awesome support guests from Adam Cole & the Pollen Choir, Richard Easton (in full band mode) and Khancoban (also on the Half a Cow label).
Official Website: http://www.myspace.com/kidcornered