Roam Music proudly brings Vancouver's Mathew Jonson, one of the preeminent artists in electronic music today, to San Francisco for the very first time on Saturday night November 22nd at a proper underground location. This second installment in our AudioKinesis series is titled "Jade".

Full Event Info:

Title: Roam Music presents AudioKinesis: Jade w/ Mathew Jonson Live on FUNKTION-ONE Sound
Tag line: Mathew Jonson's first San Francisco appearance
Date: November 22, 2008
Start: 10 PM
End: ???
Location: Announced week of event on www.roam-music.com
Talent: Mathew Jonson (live), John Wander, Nikola Baytala, Droog, Lee Foss

Tickets: Limited presales available through Roam website & wantickets.com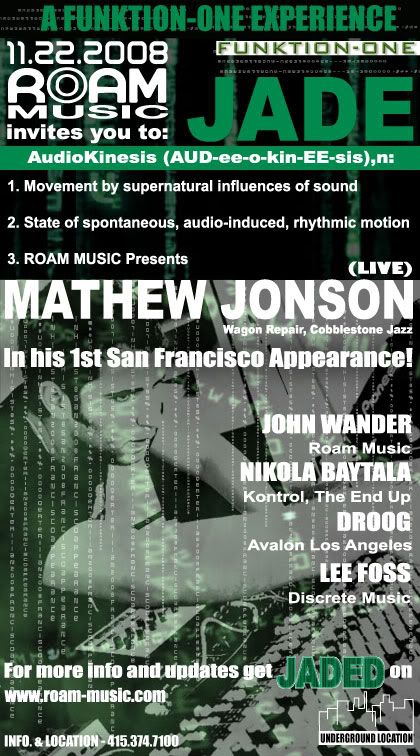 With a tremendous musical output, Mathew Jonson's music has been a staple on dance floors across the globe over the last few years. He is a prolific music producer not only on his own critically acclaimed Wagon Repair label but on renowned labels including Sub Static, Minus, Perlon, Kompakt, Itiswhatitis, Arbutus.

Tracks such as 'India in Me', 'Dump Truck', 'Decompression', 'Alpine Rocket' w/ Luciano, 'Marionette', 'Folding Space, 'Typerope', and 'Return of the Zombie Bikers' have found themselves on the top ten lists of DJs like Gilles Peterson, Richie Hawtin, Tiga, Ricardo Villalobos, Damian Lazarus, Sven Vath and Laurent Garnier.

Jonson's live show is a blazing experience of sounds and focused motion. A musical enigma of hybrid styles; fusing influences from techno, jazz, house, and drum 'n' bass to create flowing bass lines and synth melodies. Always at work on a multitude of outboard equipment, the old analogues complimented with the latest tools and modern technology, no wonder, these notorious performances have become stuff of legend.

With this in mind, we couldn't let the night go without bringing back a sorely missed legend to the San Francisco underground music scene. Throughout our history, we Roamans have put extra special attention on sound. We've pursued this quest for audio excellence beyond logical mandates. We think you love us for it.

So how do we top the Dynacord Cobra sound from last month's Mauvelous party? Please welcome back FUNKTION-ONE sound to the San Francisco underground scene. This has been a long time pursuit at Roam Music. The people at FUNKTION-ONE have the same understanding about sound. They "pay the amazing acuity of human hearing the respect it deserves by providing products that deliver as much resolution and detail as is possible."

Please check our site at www.roam-music.com for more Jaded updates on this party.