Free
You must RSVP
You have to RSVP to reserve a parking spot at the Getty Villa - you can't park on the street because the neighbors get pissed off, so they won't admit you unless you have a ticket.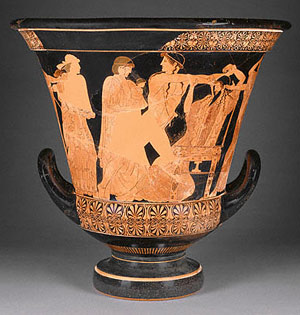 Orestes avenges the murder of his father by killing Aegisthus
Red-figure calyx krater from Athens, about 470 B.C.
J. Paul Getty Museum, 88.AE.66

Why is Greek tragedy still relevant in today's world? Find out from Jasper Griffin, emeritus professor of classical languages and literature at Oxford University, in this exploration of the power, artistry, and continuing resonance of this art form.

Tragedy came into existence in Athens about 500 B.C., and its prestige led to the writing of tragedies throughout Europe. In England, for example, Shakespeare's tragedies became (and have remained) among the most popular plays.

Like Shakespeare, Athenian tragic playwrights set the action of their plays in the past, often situating them in exotic locales such as Thebes, Persia, and Egypt. These plays were presented entirely in poetry in the "high style," and they excluded many aspects of ordinary human life, such as working, shopping, eating, and—above all—happy family life. The characters are kings and queens, aristocrats and heroes, living in a world closer to the gods than to our own. The events portrayed are painful and disastrous, and the Olympian gods are constantly present. Yet tragedies are accepted as true, and we watch and sympathize with the keenest interest. In tragedies we observe the spectacle of human life being exalted by the high rank and, still more, the high utterance, of the characters. They articulate our pain as we cannot, but they are still recognizable as a version of our own world and our own problems and sufferings.

About Jasper Griffin
Jasper Griffin is emeritus professor of classical languages and literature at Oxford University, where he was also the public orator. He is one of the United Kingdom's most distinguished classicists and is particularly known for his work on Homer. Until his retirement in 2004, Professor Griffin was a fellow of Balliol College, where he studied and taught for 48 years. He was also Jackson Fellow at Harvard University, and in 1986 he was elected a fellow of the British Academy. Jasper Griffin has written numerous books, including Homer on Life and Death and Latin Poets and Roman Life, and has served as editor of the Oxford History of the Classical World. He is currently finishing a book on Attic tragedy and the history of the period in which it was produced.

Parking is $8

When to Arrive
Holders of tickets to this lecture may arrive at the Villa beginning at 7:00 p.m. The auditorium opens at 7:30 p.m., and seating is general admission. Late arrivals will be seated at the discretion of the staff managing the event. For your enjoyment, the galleries will be open prior to the lecture until 7:45 p.m. and after the lecture until 10:00 p.m., and the Museum Store will be open prior to the lecture until 7:45 p.m. There is limited food service available before the program, including coffee and light snacks.
Official Website: http://www.getty.edu/visit/events/griffin_lecture.html