TUESDAY APR 29
Scion presents
LA RIOTS
THE BLOODY BEETROOTS
FELIX CARTEL

FREE FREE FREE!!



Scion Audio/Visual (A/V) will present a four-city tour this month featuring the LA-based production and DJ duo, LA Riots. Felix Cartal and the Bloody Beetroots will also perform with the pair. These shows are free and open to the public, however attendees must RSVP at www.scion.com/AVrelease and be 21 or older.


Jo'B and Daniel Ledisko, the forces behind LA Riots, have taken the electronic music scene by storm with DJ gigs at the hottest events from coast to coast. With remixes for The Scanners, Le Castlevania, Mystery Jets, Chromeo, Jupiter One, Photek and Justice under their belts, LA Riots have put themselves on the map with their dance-floor ready
mixes.



Scion A/V and LA Riots recently joined forces to create Scion's CD Sampler v. 20. The sampler features 12 solid tracks from some of today's most innovative artists including Felix Cartal, the Bloody Beetroots, Kid Sister, Snowden, Mystery Jets and New Young Pony Club.


Music enthusiasts can listen to CD v. 20 at http://www.scion.com/#scionAVCD20.


Scion consistently champions independent thought and progressive urban culture through its music initiatives. Scion A/V provides a platform for passionate musicians to focus on developing their art and exploring the endless creative possibilities in front of them.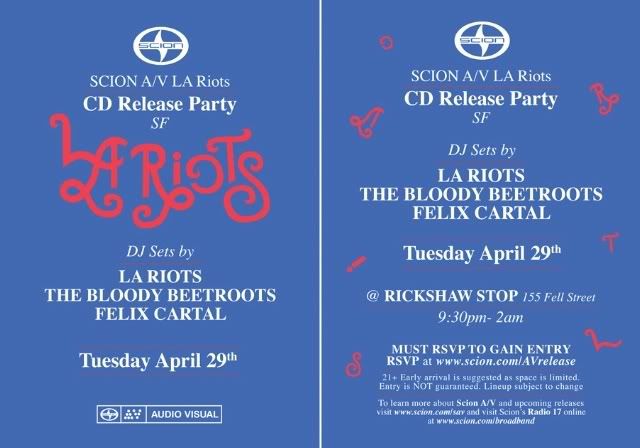 Scion A/V CD v. 20 Tour with LA Riots
CHICAGO- April 23 @ Smartbar, 3730 N. Clark St., Chicago, IL 60613
NEW YORK- April 24 @ Plan B, 339 E 10th St, New York, NY 10009
SAN FRANCISCO- April 29 @ Rickshaw Stop, 155 Fell St, San Francisco, CA 94102
LOS ANGELES- April 30 @ Viper Room, 8852 Sunset Blvd, West Hollywood, CA 90069
Official Website: http://www.scion.com/avrelease/