~*HAPPY HOUR 6-10PM EVERY FRIDAY & EVERY 4TH FRIDAY EXTENDED HOURS TIL CLOSING!*~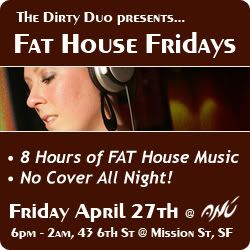 Anú is a nocturnal refuge, inspired by the ancient Celtic goddess of abundance, fertility, hope and good luck. With it's downtown location it is casual, yet stylish, laid-back, yet vibrant, and totally unexpected. It is the insiders venue of choice for the connected nitelife scene. Anú provides the perfect excuse to leave behind the stress of city life, a place to kick back, savour the flavours of a fresh fruit vodka infusion.




The DJ is central to the appeal of Anú. Only the most experienced and proven local DJ's are selected to entertain the guests on a weekly basis, including the likes of Scott Carrelli with his always packed weekly Wednesday "Satellite" show, Fridays with Jaime James (Fahrenheit360, Germany) and Alibi SF's The Dirty Duo, Jonathan Beech and Sinukus with their monthly "FunkyCozy" event.




Several times a month International DJ's make appearances at Anú. Some recent DJ's to perform have been: James Holden, Pier Bucci, Gabriel & Dresden, Miguel Migs, Danny Howells, Felix Da Housecat, Damien Lazarus, Hybrid, Steve Porter, Jerry Bonham, Lucien Foort, DJ Three, Desyn Masiello, Luke Chable, Alex Whalen & Kerowac, Mark Farina, Lee Burridge, James Lavelle, Nick Warren, D:Fuse, Jondi & Spesh, and Luke Fair.

Friday Resident DJs
The Dirty Duo (Alilbi SF) - Minimal, Tech-House, Hyphy-House, Electro
www.myspace.com/thedirtyduosf
Mixes available: www.mixdepot.net/thedirtyduo

Jaime James (Fahrenheit 360-Germany, Monster Music-USA) - Minimal, Tech-House, Electro, Breaks
www.myspace.com/jaimejamesmusic
Mixes available: www.mixdepot.net/JaimeJames

Plus, this week's 4/27 guest DJs
Lexxx (1015, Reverb, DJLexxx.com) - Funky & Deep House
www.myspace.com/sflexxx
Skwallie (1015, Reverb) - Funky & Deep House
www.myspace.com/skwallie
Sjimon (Babylon Sound System)- Rare Groove, 60's, 70's Funk, Dub and Reggae
www.myspace.com/sjimon



43 6th Street
San Francisco
Telephone: + 1 415 543 3505
Hours: Tue - Sat 5pm - 2am
Official Website: http://www.anu-bar.com/
Added by jaimejames on April 24, 2007