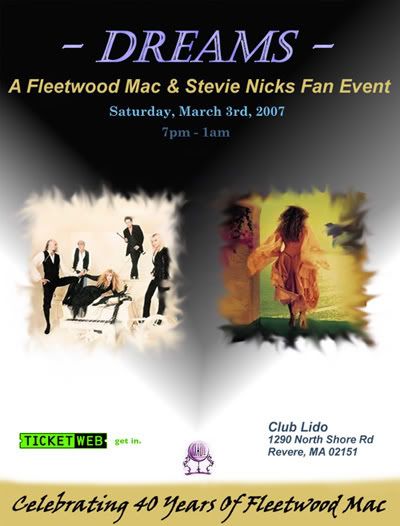 DREAMS: A FLEETWOOD MAC & STEVIE NICKS FAN EVENT
SATURDAY, MARCH 3, 2007
CLUB LIDO
1290 NORTH SHORE RD
BOSTON
DOORS OPEN: 7PM
18 To Enter, 21 To Drink

General Admission: $30
Ticket purchases at Ticketweb.com or by phone at 1-800-965-4827


Event website: www.DREAMSEVENT.com

Dreams: A Fleetwood Mac & Stevie Nicks Fan Event will be held on Saturday, March 3rd at Club Lido in Boston. Dreams is a fan event, showcasing the legendary music of both Fleetwood Mac and Stevie Nicks together on one incredible night. It's a party full of music, dancing, twirling, shawls, tambourines, giveaways, great live performances, and much more.
Official Website: http://dreamsevent.com