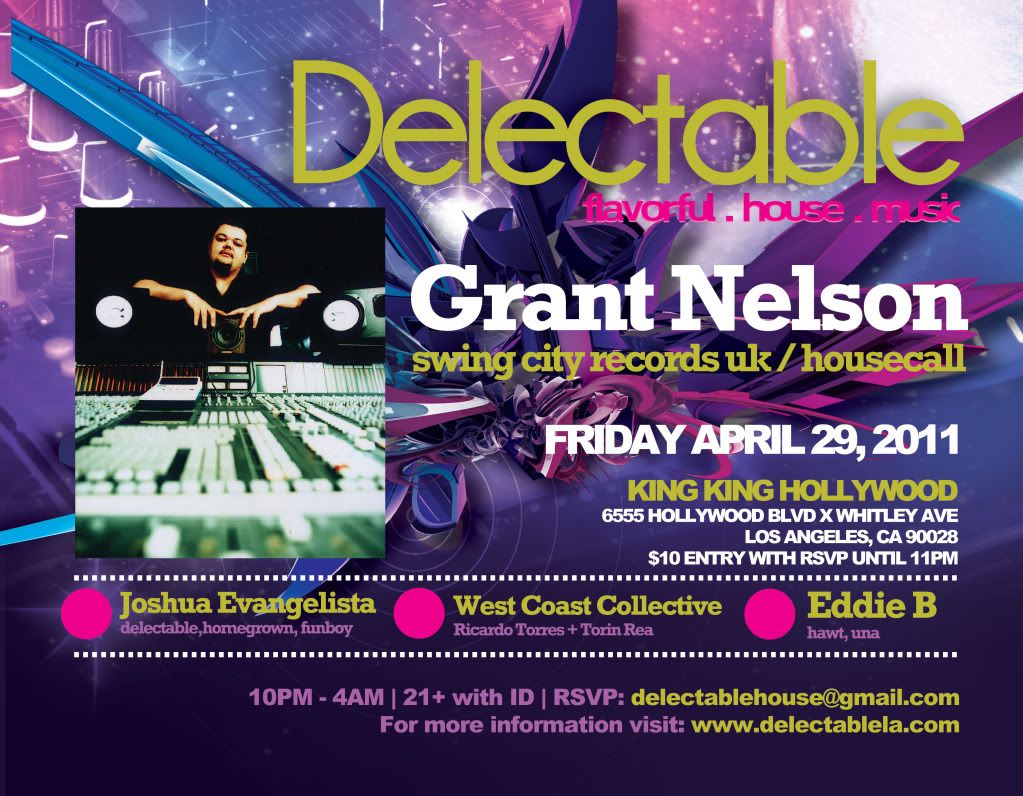 $10 til 11pm w/ RSVP at [email protected]

================

A Night of Flavorful House Music with The Godfather of UK Garage & Funky House, and who DJ Mag calls One of the Greatest Remixers of ALL TIME.

GRANT NELSON (Housecall, Swing City, UK)

Supported by
JOSH EVANGELISTA (Delectable, Homegrown, Funboy)
WEST COAST COLLECTIVE (Kinjo/Soul Fuel)
EDDIE BARAJAS (Hawt, Una, Secret Cinema)

Please join the DELECTABLE Page for future events:
http://www.facebook.com/pages/Delectable/216155555065983?sk=wall

==================

Grant Nelson Bio

Grant was born in April 1971 just on the outskirts of London.

From a very early age he showed more than an interest in music but oddly enough it wasn't what he wanted to do with his life. He was always the class joker and overall entertainer through his school years and it was maybe his love of cinema that convinced him to become an actor. To this date, he swears that if things hadn't unfolded the way that they did he would have gone to R.A.D.A and who knows, maybe we would be watching him on the silver screen now.

So when did the music bug first bite?

At around the age of 9 he first began dabbling in acoustic engineering – oh okay, pulling his parents hi-fi system apart and recording the results onto his granddads old reel to reel cassette recorder. He claims that he was a mix DJ before the term had even been invented. "I used to take a bit of Queen's 'Another one bites the dust', throw in some beats from some dodgy old Hawaiian drums LP and, very poorly, scratch in orchestral hits from my 'Star Wars' original motion picture Soundtrack album. The result was nearly always terrible but it was the fact that you could make something different by layering pieces of music that first drew my attention to the intricate workings of music production".

Then came the classical training….

Nope, not in this case. With a present of a keyboard for his thirteenth birthday he started tinkering away at his own pace. Within a few short months he had set up a band with some school friends. Sadly the highlight of the band's career was playing a few Pet Shop Boy's covers to the rest of the school in an assembly period one morning, but it was his first taste of musical performance and he liked it.

Remixes at the age of 13?

His first remix, albeit just in his own bedroom, was of Chaka Kahn's "I feel for you" and it went down with his friends so well that he decided to do some more.
Lots more… In fact it got to the stage where he was so proud of his 'cassette pausing, record looping, live synth playing, reconstructions' that he sent his mix of The Jets' "Crush on You" away to their record company. Alas he never heard back from them but ironically years later he would do quite a bit of remixing work for MCA.

Illegal parties and Djing…

After blagging his way into a Djing gig, just because he had bundles of records and bundles of lip, he became quite popular in the local area and ended up doing a few birthday parties and Christmas do's. This soon became frustrating due to the musical requests though – "They were asking for all sorts of rubbish and although I admit that I bought some pants records in my youth, I was 16 now and had a devastating collection of 70's disco, 80's soul and early house…. I was being asked for 'Congratulations' by Cliff Richard. It had to stop… It was offending my ears…." So Grant teamed up with a friend to 'put on a few parties'. This quickly escalated into mini-raves and all sorts of trouble followed. "Well I only got caught once. The police took some amps, decks and a couple of strobes – no big deal. There was a small fine too, but that wasn't the problem, what was worse was that if we tried to hold a party legally, like in a church hall or something, the place would get totalled and we'd get lumbered with a huge repair bill…. Some people have so little respect for a pulpit I can tell you…" When the newspapers reported the story about the one that had been busted by the police they called the event a "Massive Audio Disturbance", which Grant later used to name one of his recordings with Kickin' Records under his Wishdokta guise.

The Demo tape and Deal …..

1990 – Grant had just returned from a summer season Djing gig in Jersey, CI. Coming down from the buzz of being the resident DJ in the islands top club wasn't easy and he couldn't really settle into a career job. "I've tried everything from working in KFC to Bingo Calling…" During his illegal stay, ("The bursar just thought that I was a student"), at his girlfriends college halls of residence he began working on a demo tape that would eventually get him his first deal. "I used to spend a lot of time tinkering on the communal piano in the TV room while other education skivers were trying to watch Oprah. It didn't take me long to realise that everybody was probably too stoned to even know I was there so I thought, what the hell, and brought my 4 track tape recorder, Korg mono/poly synthesiser, a £50 Casio sampler and my sorry little Boss drum machine down into the TV room and set up my own little studio…. Between hiding under my girlfriends bed when she had a room inspection and working at Rymans the stationers I managed to record an entire album of tracks." Tracks, so good in fact that Kate, his girlfriend, persuaded him to send off his tape to a record label. Reluctantly Grant sent the tape off to Kickin' Records. A couple of days later he received a phone call, went for a meeting and had a record deal…

Wishdokta was born ….

As Wishdokta Grant bounded onto the stage, his face painted with 3d blocks and astounded crowds Europe-Wide with his eclectic blend of rock, hardcore, ragga and breakbeats. "At the time I was telling members of the press that I sacrificed goats before I went on stage and all sorts of weirdness like that…"
His first single release was entitled "Evil surrounds us" and went straight into the UK's top 75 singles chart and his first ever review stated "Is Wishdokta the Ozzy Osbourne of House?". Not bad for a new artist making devil worshipping hardcore nonsense. As Wishdokta he toured extensively at festivals, raves & clubs in the UK & Germany building up a fan base that actually lead to one crazed American guy ringing the Kickin' offices and stating that he had just come out of a rave and he 'totally understood what Wishdokta was saying!'. So much so that when he was told he wouldn't be be able to speak to the Dok he threatend the lives of the people on the end of the phone. Happy days.

From Hardcore to House….

Growing more and more discontent with the musical restraints of the Hardcore scene, he teamed up with top Happy Hardcore DJ, DJ Vibes. "I know it sounds like jumping from the pan into the fire, but it wasn't. Vibes and I used to hook up once every month or so and record a couple of tracks in my bedroom studio. We pressed up the vinyl on our own label 'Asylum' and Vibes took them off to sell them to the shops. During the rest of the time I was experimenting with different styles from, R&B to out and out Pop. It gave me the financial freedom to try a few things out…." The pair enjoyed a huge amount of success with their work and one of the singles even lead to an introduction to the person who later became Grant's partner in the company Nice 'n' Ripe records.

Nice 'n Ripe.…

1993 Grant met George Power, former Kiss FM DJ & Founder. After explaining to George where he wanted to go musically, the pair founded "Nice 'n' Ripe Records". George would be the financial backbone while Grant made the music. The work Grant recorded during this period of his career would later be heralded as the birth of UK Garage. "A lot of people assume that I had a fantastic time during the Nice 'n' Ripe days, that I revelled in the acclaim and fame I was receiving and that it must have spurred me on in the studio… The truth is that I was blissfully unaware of the impact my music was having at the time. I was locked away in the studio day and night and the only time I was aware that my work was being heard was when it was played on pirate stations that I happened to be listening to.."

So how long was it before he realised?

"It must have been around mid '95 when I really discovered how popular my sound was… It was quite a shock, I had known that there were a hardcore group of pirate Dj's on my records, but had no idea it was as widespread as it was.. I was getting calls from DJ's & Producers in the states asking me to work with them and considering that I had originally based my style on an American garage vibe this was a huge compliment"….
For reasons we can't discuss here, Nice 'n' Ripe came to an end in early 1996 but Grant had already moved on by then.

Swing City records....

During his time at Nice 'n' Ripe he had been discussing ideas for a new label with his long-time partner, Kate Ross. In the summer of 1995 Swing City Records was born. It has established itself as one of the main international House & Garage independent labels with a strong following worldwide. Grant doesn't have anything to do with the actual running of the label himself, he prefers to keep himself locked away in the studio leaving all the hard work to his partner Kate Ross, he says, "I wouldn't have the first clue about running a label, all I know is music and it's what I do best, If Swing City were left to my devices I'd be selling tapes at Oxford Circus tube station". Grant's Production / Remix of Negrocan's "Cada Vez" released on Swing City in 1999 has become a Universal smash topping the pop charts in several countries and has so far totalled World-Wide sales of nearly 2 million copies. To date Swing City has featured a host of international artists and producers and continues to supply high quality house music for the dance fraternity.

Remix Duties…..

Grant has remixed and re-produced songs for a multitude of Artists including the likes of James Brown, Kelis, Jodeci, Frankie Knuckles, Artful Dodger, Mis-Teeq, Liberty X, Aaliyah, The Brand New Heavies, Guy, Another Level, Juliet Roberts, Rosie Gaines, Gabrielle, Hinda Hicks, Thelma Houston, Beverley Knight & Faithless to name a few. He unwillingly takes a breather from the mixes every now and again so he can concentrate time on his own productions. Unwillingly due to the fact that he enjoys tampering with other people's work. His remixography gives a little insight into why he is constantly in demand as a remixer.

The UK Garage explosion….

In 1997 a new sound was born out of the London club scene. 2 step was a mixture of US Garage songs with a breakbeat styled drum pattern and bouncy UK basslines. Bump & Flex was a project set up initially as a way of releasing some this 'harder' garage music without confusing people about Grant's more melodic and bumpy musical style. From the first remix of Indo's "R U Sleepin'", Bump & Flex was a huge name on the scene. To this date it still remains one of the most prolific of all the UK Garage production outfits. Grant also teamed up with Norris 'da boss' Windross and together they formed the act N'n'G. Their first single, "Right Before My Eyes", debuted in the UK charts at number 12 in March 2000. As well as his contributions to the UK Garage scene Grant continued to produce House music evident with him getting signed to Virgin records with the release of "Step 2 Me" featuring US Vocalist Jean McClain. Following a multitude of remixes achieving 'classic' UK Garage status, Bump 'n' Flex signed a major deal for one of their own singles to Warner Brothers UK. He also managed to find time to get on production & mix duties for the hit UK band Mis-Teeq with their single "Be With Me". The single debuted at number 4 in the UK charts. A very busy 2004 saw Grant's Djing schedule take him all over the World and earned him a nomination as 'Best House DJ' at the Urban Music Awards.

Recent Projects….

Grant's remix of 'Fade' by Solu Music feat. Kimblee brought an underground classic to the mainstream. After tearing it up all over clubland for 6 months it resulted in a commercial hit for Hed Kandi records.

Other recent club smashes include Grant's own release "Spellbound" and remixes for Chocolate Puma, Towa Tei, M-Gee feat Mica Paris, Chanel, Jamiroquai, Simply Red & Alexander O'Neal.

Grant has produced two sample libraies containing beats & musical parts aimed at house music producers called 'Studio Essentials Volume 1 & 2', which are available exclusively at www.traxsource.com

Countries Grant has performed in….

England, Scotland, Ireland, Wales, USA, France, Switzerland, Italy, Germany, Holland, Spain (mainland), Ibiza, Mallorca, Denmark, Sweden, Russia, Poland, Finland, Estonia, Japan, Singapore, Australia, South Africa, Greece, Jersey, Guernsey, Austria, Brazil, Latvia, Moldova, Indonesia, South Korea, Thailand, Hong Kong, Cyprus, Portugal, Philippines, United Arab Emirates...