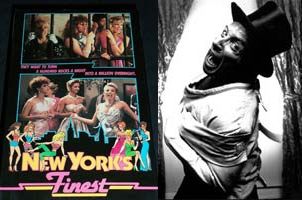 This Week At The Coney Island Saturday Night Film Series - DOUBLE FEATURE: The Girl and The Geek & New York's Finest
Coney Island Saturday Night Film Series

Coney Island Saturday Night Film Series: Saturday August 27, 8:30pm (doors open 8pm)
Coney Island Museum - 1208 Surf Ave. (between Stillwell and West 12th) $5 Free Popcorn! F, Q, N or D Train to Stillwell Ave. Coney Island.

SPECIAL: Customer Appreciation Night. Print this out, bring to the box office and get your ticket for only $3!

DOUBLE FEATURE: The Girl and The Geek & New York's Finest

The Girl & The Geek
Dir. Dale Berry, 1964. Josette (Josette Valague), a stripper at the San Souci nightclub, is kidnapped at the airport when she returns from a freelance gig in Las Vegas. Her abductors are two desperate criminals with a briefcase full of loot. Their car breaks down in a remote forest, and after a struggle that leaves her stripped to her underwear, Josette manages to grab the money and run away into the woods, but Josette is still in danger. A circus geek (Mike Butts), kept captive in a rundown carnival freakshow and forced to perform degrading stunts, has escaped from his cage and further torments the unfortunate naked girl. The crazed, drooling geek chases Josette back to the amusement park, and she attempts to evade him by jumping on a rollercoaster. The action is frequently interrupted with scenes of the San Souci girls performing their striptease numbers and primping backstage.

New York?s Finest
Dir. Chuck Vincent, 1987. Starring Coney Island Circus Sideshow?s own Scott Baker! A comic spin on the "Pygmalion" story. When three of New York's finest call girls decide to leave "the life" and marry millionaires, how they manage to set themselves up as sought-after society girls and what happens when some not-so-fashionable types from their past come after them.

Scott Baker appearing in person to introduce New York's Finest.

Also Special Attraction: Steve Marcus "Three Thug Mice" animated short before the features!