BOOTIE, America's first mashup bootleg dance party!


BOOTIE moves back to second SATURDAYS this coming weekend!


Guest DJ BC from Boston, along with DJs Lenlow and Adam Balm of Mash Ave. this Saturday, October 14th at the DNA Lounge
Bootie is back ...
back on second Saturdays
, that is! And to help us kick off Saturday night in style, we are proud to present Boston's very own
DJ BC
. You might know BC from his two highly-acclaimed Beastie Boys vs. Beatles albums,
The Beastles
. These ingenious mashup albums were ultimately banned by the Beatles' record label – but not before getting a ton of press and being blogged about all over the world!
Mash Ave, Boston's premiere bootleg night, takes over the Bootie upstairs lounge
DJ BC is also one of the creators of
MASH AVE
, Boston's premiere mashup bootleg night. Along with fellow Boston bootleggers
LENLOW
and
ADAM BALM
, these "wicked" DJs will be bringing their own brand of East Coast mashup style to the upstairs room at Bootie. Lenlow has had several of his mashups featured on various Bootie CDs ... and his latest creation, "Work It Out," is in this month's
Bootie Top 10
.
Smash-Up Derby celebrates Rocktober!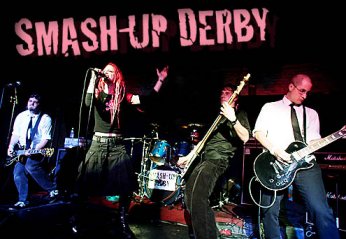 Bootie house band
SMASH-UP DERBY
will be hitting the stage at 11 pm, armed with some new rockin' songs under their belts. They'll be debuting two new mashups and both are heavy – after all, it's Rocktober! So be ready to bang your head to some
Ministry vs. Kelis
, and some
Led Zeppelin vs. the Beastie Boys
. RAWK!
Two midnight mashup performances
Yup, we've got not one, but two shows for you at midnight! The first will be
PRINCESS KENNEDY
's swan song performance in San Francisco, before she leaves for grad school in Salt Lake City. Princess Kennedy performed Bootie's first-ever midnight mashup show, so we're going to miss her! She'll be joined on stage by Bootie go-go boy
STEVEN SATYRICON
.
Then it's time to get spooky ... we've got an epic pre-
Halloween show
in store for you, featuring the Bootie debut of
DIZZY
! Expect zombies, werewolves, witches, and more!
And of course, as usual, resident DJs Rebel Djs
ADRIAN & the MYSTERIOUS D
,
PARTY BEN
, and
DADA
will be spinning throughout the night.
We've got
free Bootie CDs to the first 50 people
, and it's
2 for 1 before 10:30 pm
, so get there early! We'll see you at the DNA Lounge this Saturday!
-------------------------------
21+ w/ID, $12 cover, 2 for 1 before 10:30 pm
For more info:
http://www.BootieSF.com
Your BOOTIE hosts and DJs –
Adrian and the Mysterious D
--------------------
Bootie SF: Saturday, October 14th at DNA Lounge, San Francisco
Bootie LA: Saturday, November 4th at The Echo, Los Angeles
--------------------
[email protected]
http://www.BootieUSA.com
Official Website: http://www.BootieSF.com