Thursday March 25, 2010

Blue Collar Entertainment & Mixcloud Presents...

WMC SHOWCASE

Blue Collar Entertainment is proud to present a WMC 2010 artist showcase.
In its 5th year the international booking agency represents some of the finest in house, techno, electro and Nu-disco.  Many of the artists playing are exclusive to this event, so don't miss out!

Electric Pickle
2826, North Miami Avenue
10pm-5am

$15 presales @ residentadvisor.net

$20 at door.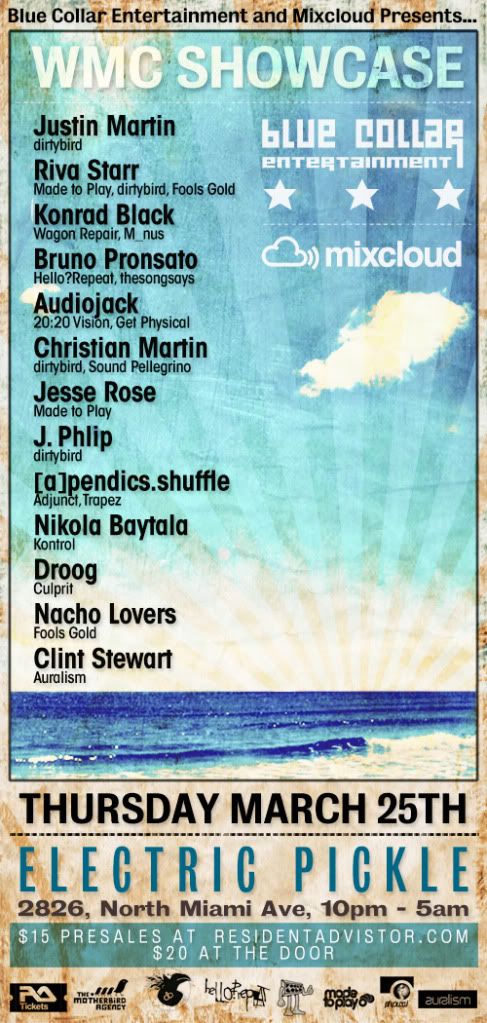 http://babylon.hostgo.com/~bluecoll/

MIXES
Konrad Black - DJ Mix 

https://download.yousendit.com/MVNkSmI1YUlVbStGa1E9PQ

Bruno Live from Bunker NYC



Justin Martin Promo MIx : 

http://www.zshare.net/audio/62780512b072ff22/



Clint Stewart:
https://rcpt.yousendit.com/823016591/470a2d55e70df69672090aec15d51ad1

Audiojack:


Nacho Lovers:
Curb Crawlers Mixtape 005


Worthy:
http://max.mailbigfile.com/d55e23aec0f97500af309970f2a576c6/listFiles.php