Date: Friday, January 22, 2010 10:00pm

Performers: Robag Whrume, Diz,Worthy,[a]pendics,Nikola Baytala, Sammy D.

City: San Francisco

Venue: Mighty, 119 Utah | 21+

10pm Till Late

$15 before 11pm | $20 after

We are celebrating with a jam packed lineup featuring some of your Blue Collar favorites.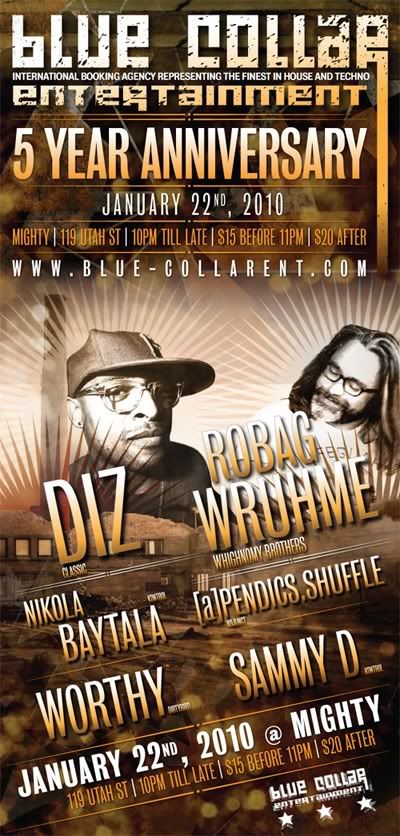 Robag Whrume ( of Wighnomy Brothers)

video


listen
http://www.yousendit.com/download/VGllU2Vqb0IwVWxMWEE9PQ

The Wighnomy Brothers are Robag Wruhme and Monkey Maffia. The two got to know each other in 1989 (supposedly while break dancing) but became the Wighnomy Brothers in 1997. Robag Wruhme spend a lot of the nineties as a chill-out DJ, starting the project Beefcake in 1996 with Volker Kahl.

Wruhme and Maffia cut their DJ skills at the Thüringer Club, and they are currently residents at Club Kassablanca, both in Jena. The pair founded the record label Freude am Tanzen in 1998 with the motto "Stehter Tropfen höhlt den Stein" ('steady drops will drill a hole in stone'). In 2002 they added a sublabel Musik Krause, both of which are distributed by the Cologne based Kompakt stable.

The Wighnomy Brothers' music is self-described as "raving with reason": sometimes cheerful and sometimes dark, together or solo the pair make minimal techno that punts straight for the dancefloor.

Diz ( Classic )

video
http://www.youtube.com/watch?v=qyyADg1wmCQ&feature=related

video
http://www.youtube.com/watch?v=EHblTzIXZMI&feature=related

Diz is a resident at Fabric in London and has been since its inception. He has also been voted as Los Angeles' favorite out of town DJ for 6 straight years, and he is the resident at Boom Boom Room which is N. Americas longest running house weekly and is celebrating its 15th year. Diz also hosts a weekly in Chicago that is in its 8th year and is a partner in the celebrated Dynagroove parties in Los Angeles that have run for the last 6 years 5-6 times a year. Diz a frequent guest on Loveslap's Xm radio show which averages 200K listeners in the USA weekly. He travels as many as 50 weekends a year and plays and average of 4-5 nights a week.

He is adored by the legions of chin-strokers who expect him to show them what will be next, yet he is regarded as the most accessible of the Chicago superstar DJ's because his style is fun, butter smooth and as tuned into popular music as it is old funk and soul.

Diz is the lead singer of the band The Freaks who have completed their second album and has released more than 40 records through labels which chase him around the world because a connection to Diz is a stamp of approval like getting an a on a report card. Diz and his steady as they come co-producer and friend, Iz, have been asked to do a mix cd for the Fabric series as Iz and Diz. Diz was also asked to prepare a mix for the Ministry of Sound Sessions series but had committed to Loveslap. Diz enjoys bowling and hold's a third-degree black belt in Xbox 360.

He has world class pedigree and has been an important figure in the global DJ community for more than 14 years. He was voted 4th most popular DJ by undergroundhouse.net. But is likely his mother knew he was destined for all this. His favorite toy as a child was her record player, and he enjoyed jumping up and down and singing along to Dizzie Gillespie records so much, she called him Diz from 3 or 4 years old. And not much has changed in the last 30 years.

Worthy (dirtybird)

listen
http://www.themml.com/mix-info.php?mix_id=89

Currently residing in San Francisco, DJ Worthy grew up around Washington DC in the early days of Deep Dish, Scott Henry and the early American rave scene. In the late 90's after moving to New York City, Worthy met his good friend Justin Martin and was exposed to the sounds of people like LTJ Bukem, Stacey Pullen, and Sasha. All of these influences made an impression on this young producer as he began to play records of all genres from hip hop to breaks to techno and drum n bass.

In 2001 Worthy set up his studio in San Francisco and began producing house music. He began DJing around the city at clubs such as The Top, Lit, and Anu. Claude VonStroke noticed some of Worthy's tracks and asked him to be a resident DJ at their huge monthly summer event in Golden Gate Park. Worthy has played along side other great DJs such as Jesse Rose, JT Donaldson, Lance Desardi, and Luke Solomon. In 2006 Worthy started his own label called Katabatic Records to give him a way to release his own music. Katabatic Records has been releasing a steady stream of quality tech house and has gaining praises for its edgy music.

2007 is looking to be a break out year for Worthy with two releases coming out on dirtybird including a remix of Claude VonStroke's "The Whistler" and an ep on Matt Tolfrey's label Leftroom Limited. Along with new releases on his label Katabatic Records with remixes from Alland Byallo and Christian Martin. If you have not heard of Worthy then you will soon know that he is worthy.

[a]pendics.shuffle

listen


Kenneth James Gibson is a man of many personas. Keeping up with him can be a time consuming, yet rewarding venture into sound. As soon as you think you know him and can grasp whats going on, he puts on yet another mask and becomes something else. Always a surprise and never a let down, he gives us what we want but dont expect. A rare stone in todays musical climate, Ken is rolling and collects no moss.

Kens first recordings were as the guitarist, singer, part time keyboardist and producer of the 90s indi rock band Furry Things. He slowly grew tired of being in a band and started producing a slew of electronic mish mash on his own as Eight Frozen Modules. Starting out with a guitar, half broken sampler (given to him by King Coffee of the legendary Texas band The Butthole Surfers), a drum machine, borrowed synths and a four track, Ken laid down an off kilter mix of electro, abstract hip hop, dub and techno.

When Kenneth isn't in the studio reeking havoc on his neighbors, he is touring the world playing his music for the crazy kids late at night. Ken lives in Los Angeles, California and co-runs the label Adjunct, part of the Kompakt family. Adjunct is a forward thinking techno and house label releasing such artists as Mikael Stavostrand, Dilo and Gurtz, Mathias Schaffhauser, Sutekh, Franco Cinelli, Kit Clayton, Peter F. Spiess and many more.

Kenneth just finished up a big remix / live project with Crostown Rebels main man Damian Lazarus, which you can hear in Damian's latest live sets. Some of this material will also be making it to vynil in the near future. Kenneth has also finished up his full length Reverse Commuter LP and EP's for DJ THREE's label Hallucination Limited, which will be out very soon, along with some excellent remixes. The Reverse Commuter live set at WMC 2009 was listed as Mr. C's (Superfreq) favorite set of the conference. Also in the works is a Kenneth James G. house influenced EP and LP for new LA label Culprit , a label run by the Droog folks. Another venture is the latest project Cascabel Gentz. This is a duo consisting of Kenneth and Dilo from Argentina. The 2 latest Cascabel EP's have been getting rave reviews from play from such DJ's as Luciano, Tim Xavier, Shonky, Brothers Vibe and many more.

Nikola Baytala

listen


It's 5:00 am beneath the city streets of San Francisco at one of the many late night underground venues in the City. The space is still packed wall to wall with club goers who have been caught in the rhythmic web being woven by San Francisco's best kept secret, DJ Nikola Baytala. For well over a decade, Nikola has built his reputation as a DJ the old fashion way: by playing the music he loves with a passion and skill that is unmatched. Even as morning approaches, no one at this party is going anywhere until San Francisco's underground hero has played his last record.??Originally from New York, Nikola got his start in Los Angeles in the 90s producing parties with the legendary Doc Martin. Upon his arrival in San Francisco, Nikola quickly developed a reputation both as a record connoisseur and a vinyl manipulator, playing kinetic sets that not only showcased his technical prowess behind the decks but also his fearlessness as a music selector by not conforming to any particular genre. He is one of the rare DJs who can mix both records fresh off the vinyl cutter alongside rare and often obscure classics in a style that is distinctly his own.

Nikola's unique style and versatility as a music selector has allowed him to play headlining slots along side some of the world's top DJs and artists: from Richie Hawtin and M.A.N.D.Y. to Roger Sanchez and Jane's Addiction. Known as an obsessive vinyl record collector, Nikola's extensive knowledge of music allows him to play sets comprised of the deepest house to the chunkiest techno and all the frequencies in between. San Francisco's own Claude Von Stroke, mastermind behind the internationally acclaimed Dirtybird label, hailed Nikola as one of the best techno DJs in San Francisco. His talents have also landed him gigs at every major venue in the City as well as residencies at some of San Francisco's most internationally-recognized venues, including The Endup and the now closed but always legendary club, The Top.

Nikola is also one of the crucial components of San Francisco's minimal-techno collective, Kontrol. Founded in 2005, Kontrol almost single-handedly revived the techno scene in San Francisco and is currently one of the most respected techno parties in North America, having brought in such legendary artists as Josh Wink and Dan Bell (DBX) along with current luminaries like Modeselektor and Matthew Dear. In addition to his hectic DJing and promotional schedule, Nikola still finds time to work on production. With tracks on labels such as Robsoul, Junior Boy's Own, Large Records and Nightshift, Nikola has a long list of critically-acclaimed productions to his credit both under his own name and along with his musical production collective, S.W.A.T.

Through his extensive touring schedule, Nikola has begun to showcase his skills to crowds around the world. His recent set at the 2009 Movement festival in Detroit blew crowds away, and Resident Advisor proclaimed him one of the top underground DJs in the US. Track by track and city by city, Nikola is quickly moving towards taking his rightful place amongst the rarefied ranks of elite DJs in the world. The international electronic community is beginning to take notice of what San Franciscans have known for years: Nikola Baytala always brings it.

Sammy D (Kontrol)

http://www.myspace.com/sammydoyle

Born and raised in Alaska, Samuel was adopted by Nannook Eskimo's and taught the way of the tundra. As a small child he spent his days building snow forts and fishing for king salmon on the Russian River just north of Alyeska. Samuel grew up in the christian non-denominational cult known as Gospel Outreach. He was allowed to listen only to christian music. His early influences were Sandi Patti, The Imperials, Chuck Gerrard, Leon Patillo, Amy Grant, Michael W. Smith and Stryper. Fast forward to 1992 and eat a grip of acid and you have the birth of a new man a changed human. Forgotten was the way of the christian slow jamz and birthed a new a sound, a rave sound. While tripping on acid (paper) Samuel heard Rave Legend Markum X playing music that he thought was delivered by alien ships to a parking garage in downtown Portland, Or. He describes this music more in depth in his auto biography simply titled "Peaking". Through out the 90's Samuel raved all up and down the west coast replacing his christian inspiration with the likes of Ritchie Hawtin, Doc Martin, Donald Glaude, DJ Dan, and Bad Boy Bill. Samuel became a dancer a groover a hauser. He specialized in liquid grooving and west coast stomping. One night on a mid-night drive from Portland to LA, to attend a famous desert rave in the summer of 1996, Samuel heard a new style of rave music called jungle aka drum&bass. This new sound captivated his mind and soon became the dictator of his every waking moment. Samuel had completed the transition from evangelist to junglist.

For the next five years Samuel, now known as (NORTHERNMAN), emersed himself in the world of drum n bass being guided by producers such as Photek, LTJ Bukem, Blame, Hidden Agenda, Adam F, J Magic, and the entire Full Cycle crew(Size,Die,Krust and Suv). In the fall of 1999 before Y2K hit NorthernMan moved to his present day location called San Francisco. His first year brought many hardships thanks to a unusually cold winter backed by an allergic reaction to fog. Long story short Sammy D is a fucking tight dj who plays hot music that people dance to. He is on a bunch of labels and you should book him. You can download his mixes "Fingerbang" and "Mind Kontrol" right now and determine if he is good enough to play your venue.
Official Website: http://www.blue-collarent.com