I'm celebrating my birthday early this year by throwing down a DJ Set this Friday at BK Bowl!

I'll be spinning after a DJ set by Shit Robot who is also an awesome producer on the DFA label.

There's BOWLiNG, a huge dancefloor, Blue Ribbon Restaurant, hot kids, the whole chuckee cheese...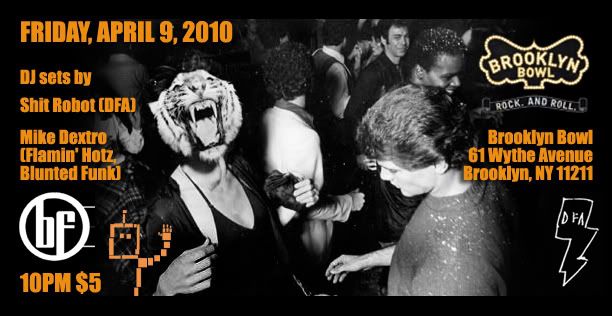 Brooklyn Bowl
61 Wythe Avenue
Brooklyn, NY 11211
$5 entry, 21+

I was there last weekend and it was awweeessoommmmeeeeenesssss...

I go on at 10:00pm
His set is 12:30am

http://www.myspace.com/ mikedextro
http://www.myspace.com/ shitrobot
http://www.brooklynbowl.com/ upcoming-events/ for tickets or buy at the door.
http://www.brooklynbowl.com/ event-detail/?id=7077 for more info on the DJ's

e-flyer: http://i12.photobucket.com/albums/a213/mikedextro/tigerrrrrr2.jpg

You should try the bourbon nutella milkshakes, I'll be drinking them all night. See you there!