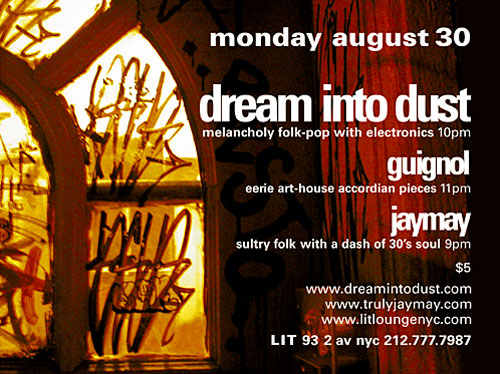 DREAM INTO DUST
[10pm] 
http://www.dreamintodust.com

Melancholy folk-pop punctuated by textured noise and electronics. Plaintive tenor vocals and bruised acoustic guitar are framed with drum samples, driving bass, and waves of effects.

"...lush acoustic guitars and warm singing contrasting with dissonant percussion samples..." [High Bias]

"Soothing pop songs...keep you guessing by the constant inclusion of electronic burst and interference... full of damn fine songwriting and in the end that's what makes Dream Into Dust superb and influential in their own right." [Wetworks]

"...giving a voice to ennui and feverish emotion...disturbing, and vital." [Logo Magazine]

Recent live photos: http://www.chthonicstreams.com/photos080304.html
Samples from the latest album: http://www.chthonicstreams.com/lathe.html

Also appearing:

GUIGNOL [11pm]
"Guignol, featuring members of World/Inferno and the Raymond Scott Orchestrette, performs eerie accordian pieces with art-house stylings." - CitySearch

JAYMAY [9pm]
www.trulyjaymay.com
Sultry folk with a touch of 1930's soul. A charming young woman with a beautiful voice and a way with a guitar.